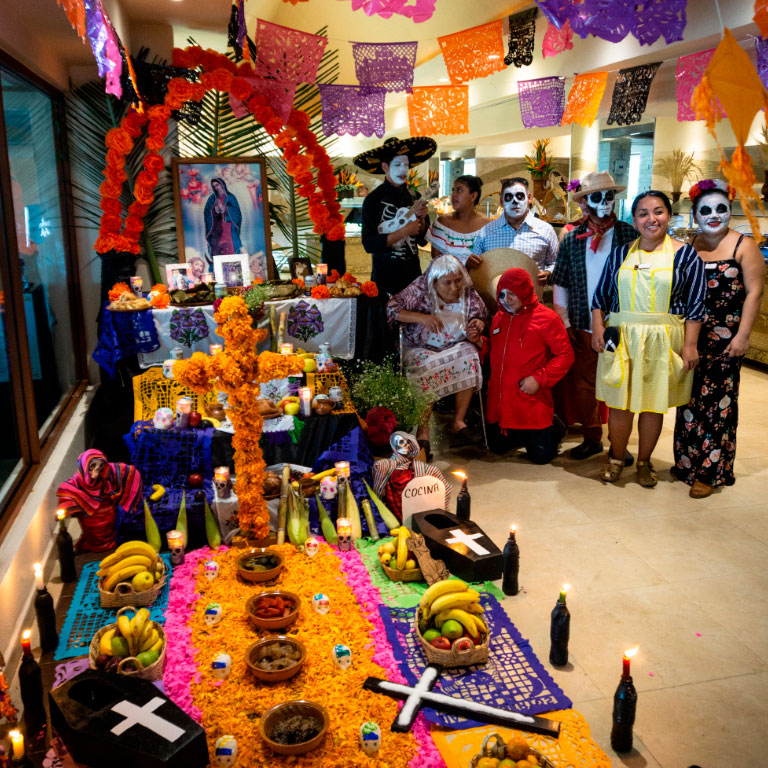 November is here, and with it, the Day of the Dead, one of the most anticipated Mexican holidays, which gives Mexicans the opportunity to welcome the souls of their beloved who have passed and to enjoy dishes available only at this time of the year.
This colorful tradition has a special meaning. Every year families remember their loved ones buy setting up altars full of the dishes and drinks they enjoyed most in life. They also add flowers, candles, incense, colorful "papel picado" (cut paper), other objects pertaining to their loved ones' lives and a photograph of the person or persons who the altar was created for.
Every year, Sunset World hotels give free rein to employees to create altars for a contest in which the guests, in addition to enjoying the event, participate as judges. This allows them to learn about this Mexican holiday and try pan de muerto.
Some of the alters were dedicated to renowned show business personalities like José José, María Félix and Pedro Infante, among others. They also dressed in traditional costumes and "catrina" and "catrine" sugar skull make-up.
One of the most original, which turned out to be one of the winners, was the altar dedicated to the animated film Coco. The employees dressed as Coco characters.
All of the altars included colorful cempasúchil (marigold) flowers. It is said that their petals hold the heat of the sun and illuminate the path for the return of the deseased souls.