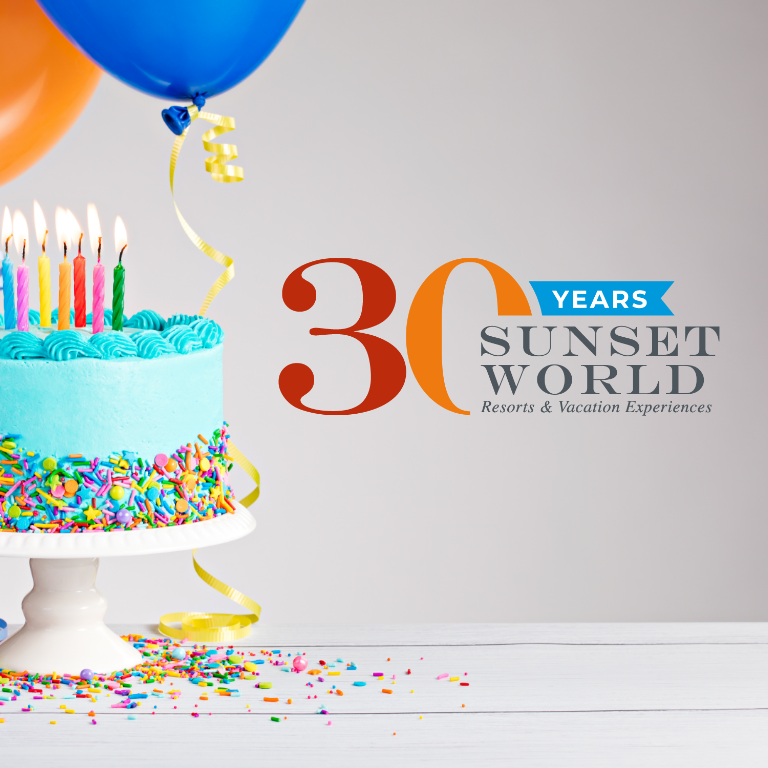 This year Sunset World Group is celebrating 30 years of offering memorable vacation experiences in the incomparable Mexican Caribbean.
What better way to celebrate than to remember what made this successful Mexican family business a "home away from home" for hundreds of families, couples and friends. Let's take a trip through the past and a brief tour of the history of Sunset World Group:
1992 – Sunset World Group began this adventure with the construction of Sunset Royal, its first beachfront hotel.
1994 – What is now Sunset Marina is acquired and renovated.
1994 – Sunset Royal begins operations and improves the vacation experience of its guests and members with the creation of Sunrise Travel, which offers a wide range of services and tours.
1999 – Sunset World Group acquires and renovates Sunset Fishermen in Playa del Carmen.
2002 – Sunset Admiral Yacht & Marina offers the first collection of luxury yachts in Cancun.
2006 – Construction of Hacienda Tres Ríos begins on a 132-hectare nature reserve in the Riviera Maya and Laguna Suites Golf + Spa hotel in Cancún is acquired and renovated.
2007 – Ocean Spa Hotel in Cancun is acquired and renovated.
2008 – Hacienda Tres Ríos opens its doors with international recognition.
2010 – Renovations are done at Sunset Royal and the first edition of the Hacienda Tres Ríos Triathlon is held.
2011 – The first edition of the Sunset Boat Parade takes place.
2012 – Ethos, Granja en la Selva begins production of fresh flowers and produce and supplies six Sunset World hotels.
2014 –An energy efficiency program is implemented as part of Sunset World's commitment to environmental care and conservation.
2015 / 2016 – More rooms are added for Club La Herencia members.
2018 – The building for Club La Herencia II members opened.
2019 – Kotori and Hacienda Grill restaurants at Hacienda Tres Ríos and La Pérgola restaurant at Sunset Marina hotel were renovated.
2021 – Sunset World made a significant investment in renovations to its hotels, amenities and services, as well as created new experiences to enrich its members and guests' vacations.
Follow us to learn about the incredible experiences and news that Sunset World has for you.