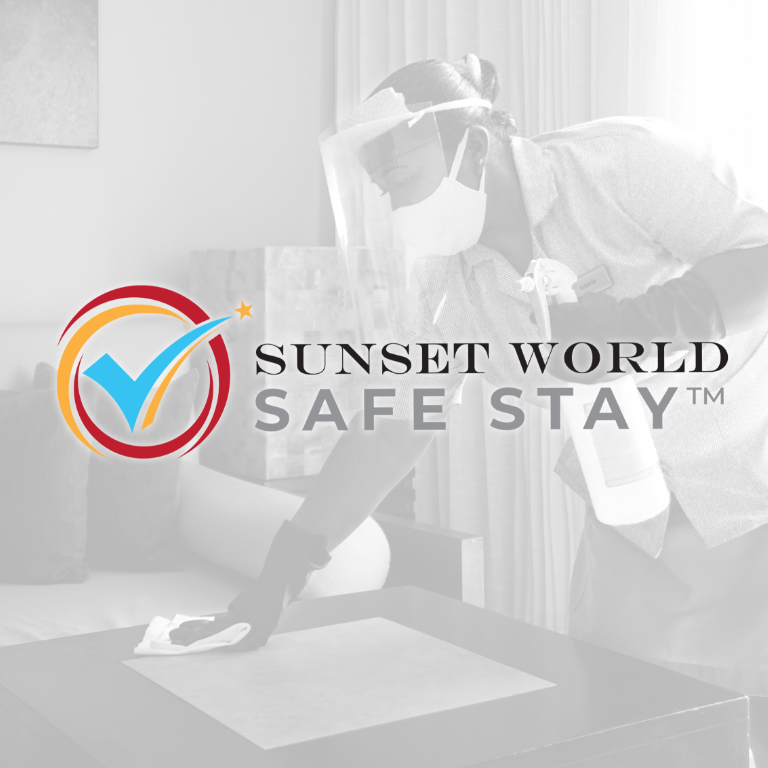 The health and well-being of Sunset World guests, members and staff is and will continue to be our priority, which is why we have improved and renewed procedures for the new normal.
During the last few months we have been working hard so that your vacation experience in the Mexican Caribbean, in addition to being extraordinary, is safe.
We have been trained with the best available COVID-19 protocol training and have implemented our Sunset World Safe Stay program, which includes more than 150 preventive actions to guarantee a safe environment for everyone.
Safe Stay begins upon your arrival at the resort. Before entering, the staff members' temperature will be taken. They will go through a sanitizing chamber and additional measures will be taken to sanitize their footwear.
The staff will wear masks, which will be replaced every four hours. Social distancing will be promoted with floor markings that will indicate a safe distance between people.
Acrylic protective barriers have been placed at the guest service desks and reception.
The waiting time in reception at check-in will also be reduced by promoting online check-in through our Sunset World App, which will reduce up to 90% of contact time in reception.
All rooms will go through a strict disinfection protocol using an electrostatic fogging system. Mattresses will be fully sanitized prior to arrival, and the air conditioning system goes through an additional sanitization process. To complete this process, the Housekeeping Department follows strict sanitation control using the appropriate protective equipment that includes masks, face shield and gloves.
Both employee and guest transportation vehicles, including water taxis, will be disinfected after each trip.
This program ensures that all public and common areas are sanitized frequently. This includes elevators, restaurants, gyms, kids clubs and spas.
In our restaurants, social distancing is promoted, menus are disinfected after each use and will also be available digitally. Sanitizing wipes are also available to sanitize your cell phone and waiters must wash their hands every 30 minutes.
Your next stay will be protected by Sunset World Safe Stay. It has been implemented in all our hotels, so that you can enjoy your vacation with complete confidence.