Riviera Maya, Mexico – Recently Sunset World Group's Hacienda Tres Ríos and Sunset Fishermen hotels underwent the yearly Mexican Ministry of Health and Ministry of Tourism Hygienic Food Management Program evaluation. Both received the 2022 Distinctive H certification for meeting high sanitary standards when receiving, storing and preparing food.
Each year hotel staff attend trainings that include a series of recommendations and techniques for personal hygiene and receiving, washing, disinfecting, cleaning, storing, freezing, refrigerating and thawing food. At the end of the training, an evaluation is performed. A hotel must meet at least 90% of 13 criteria to receive the certification.
"Obtaining the Distinctive H is the result of a meticulous process. Receiving it allows us to be recognized nationally and internationally," said Dr. Martha Richardson, Sunset World Group Corporate Director of Operations. "However, what motivates us the most is pampering our members and guests with fresh, healthy, tasty food," she concluded.
The Distinctive H is a recognition granted annually by the Ministry of Tourism and Ministry of Health to food and beverage establishments that meet the high hygiene standards established by the Mexican NMX-F-605-NORMEX-2018 Standard for which the establishments' staff receives constant training.
Hacienda Tres Ríos is the only environmentally responsible luxury resort that offers exclusive access to Tres Ríos Nature Park in the Riviera Maya and a truly comprehensive All-Inclusive Plan. Enjoy architecturally acclaimed accommodations, fine dining, world-class spa services, and unique experiences in Tres Ríos Nature Park with guided tours through mangrove forests, swimming, snorkeling, and kayaking along winding natural rivers, or simply unwind on its peaceful beaches.
Sunset Fishermen is a relaxing resort located in the heart of the beautiful Riviera Maya, in an exclusive private residential area of Playa del Carmen. Due to its location, guests have access to endless exciting activities in the area or they can just sunbathe and swim at a beautiful beach just steps from their room.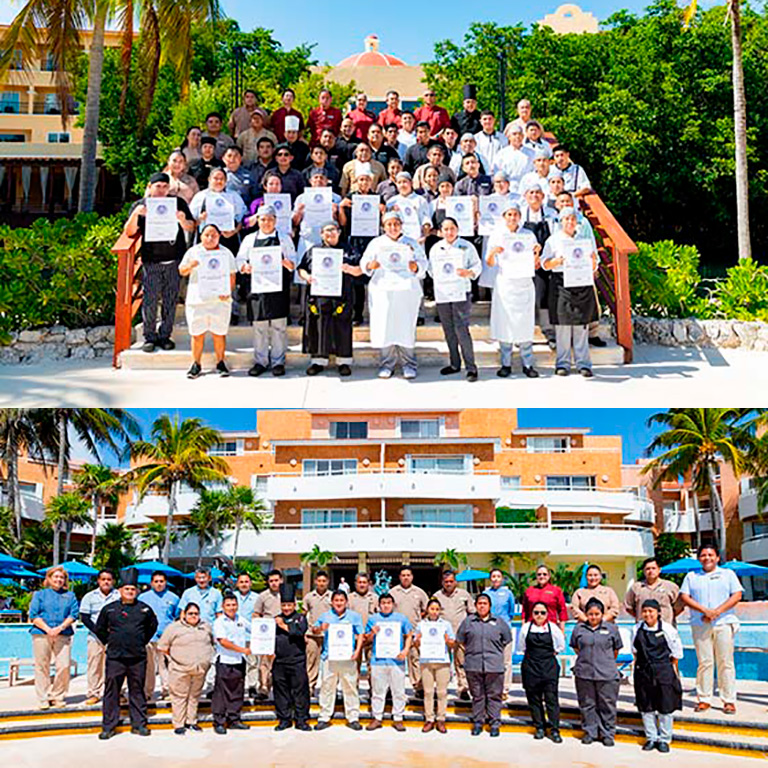 Sunset World Group is a Mexican family business with more than 30 years of experience in the hospitality industry and a sincere passion for environmental conservation, which is why it implemented an Energy Efficiency Program by substituting supply technologies in its six hotels. In addition, as of February 2020, all Sunset World hotels are supplied with clean, renewable energy produced at Mexican wind farms and geothermal plants, which has considerably reduced the company's carbon footprint. The activity and gastronomy programs in all six hotels were recently updated and expanded for the enjoyment of all family members. Sunset World Group always focuses on providing the best vacation experiences for its members and guests.